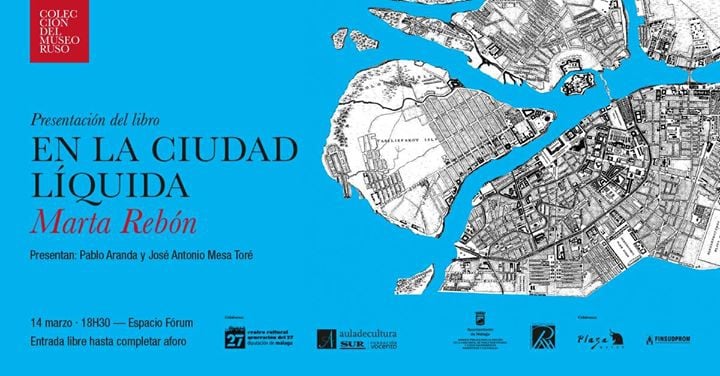 En la ciudad líquida, Marta Rebón
Colección del Museo Ruso de San Petersburgo, Málaga
Wed Mar 14th 2018 at 18:30 until 19:40
---
Avenida Sor Teresa Prat 15

,

Tabacalera Building

,

Malaga

,

Tabacalera
https://www.myguidemalaga.com/events/en-la-ciudad-liquida-marta-rebon
---
Museo Ruso, the Russian Collection
MAKE ENQUIRY
Event Details
In the liquid city it is much more than a city, much more than a trip, much more than a book. It is to follow Dostoevsky on his first tour of Europe, to visit the room and a half of Brodsky in St. Petersburg, the dacha where Pasternak composed his Doctor Zhivago or the family farms of Nabokov. Through narrative essays and personal chronicles, the author draws a fascinating map of lives and literary works and their impact on our most intimate geographies.

Liquid cities are those whose contours are reflected in the waters of a river or a sea. For the author, they are also a metaphor for the interior space in which one submerges when, in a state of suspension, one reads, translates or writes. But what is inside this book can not be explained.

Marta Rebón, one of the most important translators of Russian in this country, makes an intimate and profound journey through literature, landscapes and languages that have determined her life. This work is a tribute to authors such as Chekhov, Dostoevsky, Pasternak or Nabokov, among many others, and is a tribute to the word and its double edge, since in it they inhabit the silhouette and its reflection, as a liquid city that it is also.

Information of interest

With the presence of Pablo Aranda and José Antonio Mesa Toré.

Collaboration of the Cultural Classroom of Diario SUR and the Generación Cultural Center of 27.

Place: Forum.

Free entry until complete seats.