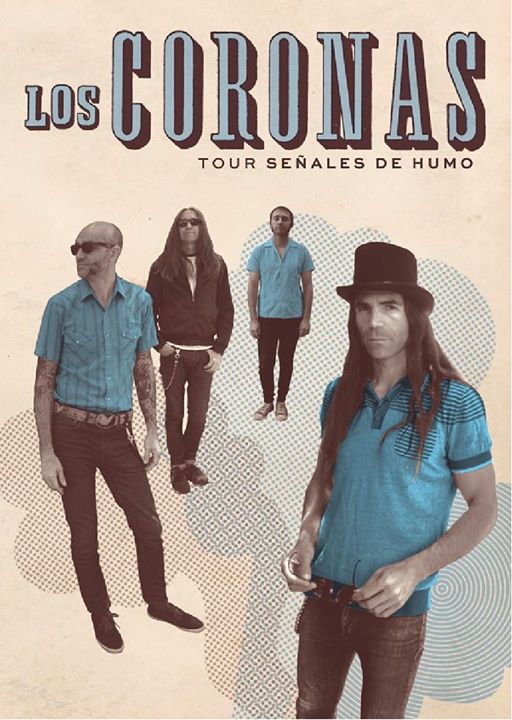 Los Coronas
La Cochera Cabaret
Fri Feb 2nd 2018 at 08:00
---
Avenida de los Guindos 19

,

Malaga

,

Old Town
https://www.myguidemalaga.com/events/los-coronas
---
La Cochera Cabaret
MAKE ENQUIRY
BOOK NOW
Event Details
LOS CORONAS PRESENTAN 'SEÑALES DE HUMO', SU TRABAJO MÁS AMBICIOSO Y ARRIESGADO

Con el surf en el frontispicio de sus raíces, regresan Los Coronas con Señales de humo, su álbum más ambicioso y arriesgado, en el que lo mismo juegan con la música disco que se sumergen en los ritmos africanos. Toda una exhibición de estilos tratados a través del insolente modelo instrumental que caracteriza al grupo madrileño.

Señales de humo llega el 29 de septiembre con sabores variados para un estilo inconfundible. Grabado en el desierto de Tucson (WaveLab Recording Studio) pero con la mirada puesta en la serranía andaluza, en el sonido caño roto, en el twang, en Duke Ellington y, por supuesto, en el surf instrumental. Y con la producción una vez más de Craig Schumacher, veterano colaborador del combo que fundaron en 1991 los guitarristas Fernando Pardo y David Krahe. No cabe sino prepararse para más dramas en el Oeste, pinchos morunos, olas épicas y más, mucho más.

Hay doble sentido en esas Señales de humo de las que habla el título del álbum. Por una parte, una referencia analógica a ese lenguaje no verbal de las canciones de Los Coronas, pero por otra, también a la necesidad de "vender humo" –en el buen sentido de la expresión– para llegar al público con instrumentales, una suerte en desuso en España desde hace varias décadas. "Desde los años sesenta no queda nada de eso en nuestro país, lo que nos obliga a ser capaces de vender con trucos de magia nuestra propuesta instrumental a los medios de comunicación' reflexiona Krahe.

Es también, en su versión vinilo, el primer disco doble de Los Coronas en 12 años. Diecisiete temas instrumentales: todo un desafío para la industria musical. Qué mejor forma de cerrar un círculo, el que se abrió con su anterior doble, el primero con la actual formación de la banda, lo que sembrará en sus seguidores la duda de la despedida. ¿Se van? Quién sabe, quizás solo traten de dar dos tazas a los partidarios de lo tradicional.

"Estamos sin duda ante un resumen de todas las trayectorias trazadas desde que comenzamos", analiza David Krahe. Desde que él y Fernando Pardo corrían con el peso de todas las composiciones hasta la actualidad, en la que esta tarea recae sobre la totalidad de los integrantes del grupo, el abanico de estilos se ha ido abriendo, aunque siempre con el RnR en su acepción más genérica sirviendo de sustrato musical. Ahora Roberto Lozano, Javier Vacas y Yevhen Riechkalov también son una parte fundamental en la labor de creación aportando sus propias composiciones y arreglos al álbum, y eso obligatoriamente se nota. "La paleta de colores se ha ido ampliando y repitiendo, y en este es más amplia que en cualquier otro disco", avisa. De ahí que surjan sonidos más personales, más actuales, en los que cobra un peso considerable la aflamencada rumba española.

De eso van temas como A tope de amor y lujo o esa gamberrada llamada Mulas huyendo de una hostia consagrada, título prestado de la mofa de unos jóvenes Dalí, Lorca y Buñuel al consagrado Juan Ramón Jiménez. Surrealismo doble: surrealista y del sur, como las guitarras del propio tema. Pero ojo que en La fiebre coquetean con la música disco, pincelada que ya habían experimentado en Adiós Sancho, su álbum de 2013.

A veces se ponen balcánicos, como en plan Emir Kústurica (7+6), o revisitan el rock y el rhythm and blues de los sesenta (Mr Reed, Lady Rolla) o lo mismo le dan a sus canciones un aire mexicano que entronca con el Spaghetti Western de Ennio Morricone y con su versión más generacionalmente próxima, la de los cómics del Teniente Blueberry.

Puestos a sorprender y variar, Pincho moruno y Essaouira son dos títulos que no engañan: llevan África en sus venas, lo que da una idea de la mezcla que preside estas Señales de humo. Aunque ningún tema refleja mejor ese mestizaje que otro que tampoco miente: Tres culturas, como la famosa plaza de Ciudad de México, que en este caso reúne al flamenco hispano de su estrofa con el puro mariachi de su estribillo y el formato vals que los conecta.

En el capítulo de colaboraciones, Los Coronas han reclutado a un buen puñado de buenos amigos. Es el caso de Sergio Mendoza (Calexico/SM y La Orkesta), Jairo Zavala (Calexico/Depedro), Miguel Campello (El Bicho), Chris Masterson (Mastersons/Steve Earle/Son Volt) y Eleanor Whitmore (Mastersons/Steve Earle). Todo ello para completar el disco con más matices y variado de los que dibujan la trayectoria del que es uno de los principales grupos de culto de la escena rock nacional.

Con un nombre tomado de Corona, la localidad californiana donde Fender fabricó sus famosas guitarras hasta 1991, Los Coronas han publicados discos como el EP Tormenta (1992) y los álbumes Los Coronas (1995), Gen-U- Ine Sounds (1996), The Vivid Sounds of... (2003), Caliente caliente (2004), Surfin´ Tenochtitlan (2006), Have a cocktail with... Los Coronas & The Hi-Risers (2009) o El baile final de los locos y los cuerdos (2009). Con Arizona Baby, Los Coronas publicaron el EP Dos bandas y un destino (2009) y el triple vinilo y DVD en directo El concierto (2010), y bajo el nombre de Corizonas, ambos grupos lanzaron The News Today (2011) y Nueva Dimensión Vital (2016).

Cuatro años después de Adiós Sancho, su último trabajo hasta la fecha, el regreso de Los Coronas es todo un acontecimiento. Será tarea de sus seguidores interpretar si esas arriesgadas Señales de humo quieren decir adiós o solo hasta la próxima.