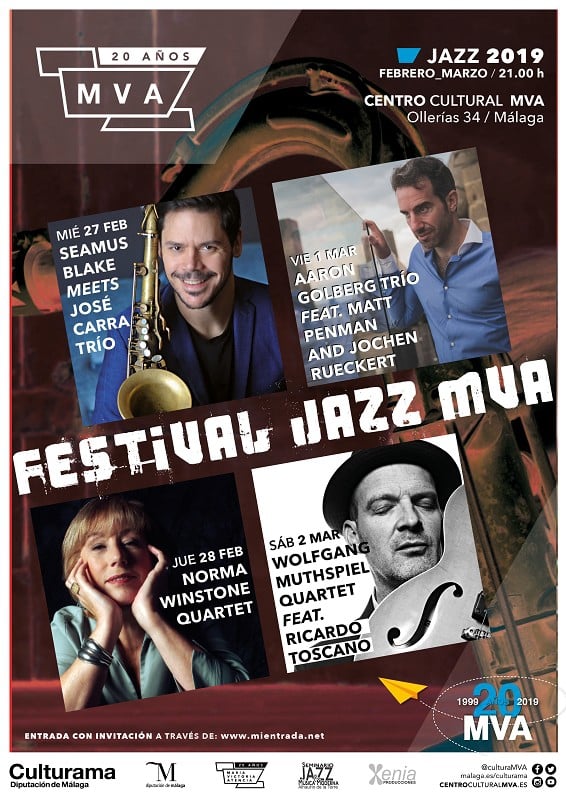 Event Details
Jazz Festival MVA 2019. Aaron Golberg, Seamus Blake, Norma Winstone and Wolfgang Muthspiel, guest musicians at the MVA Jazz Festival, which will be held from February 27 to March 2 at the provincial cultural center of Malaga. In this way the Diputación de Málaga joins with these four concerts at the Alhaurín de la Torre Jazz Seminar, which will receive 120 students from all over Spain and Europe.
MVA Jazz Festival 2019

Wednesday, February 27 at 9:00 p.m. - Seamus Blake meets José Carra trio
Thursday, February 28 at 9:00 p.m. - Norma Winstone Quartet
Friday, March 1 at 9:00 p.m. - Aaron Golberg trio feat Matt Penman and Jochen Rueckert
Saturday, March 2 at 9:00 p.m. - Wolfgang Muthspiel Quartet feat. Ricardo Toscano
Invitations to concerts in the MVA can be obtained for free through mientrada.net a week before each event.
From Wednesday, February 27 to Saturday, March 2 at 9:00 p.m. Entry with invitation. Apply at www.mientrada.net
MVA Cultural Center. Calle Ollerías, 33, 29012 Málaga.