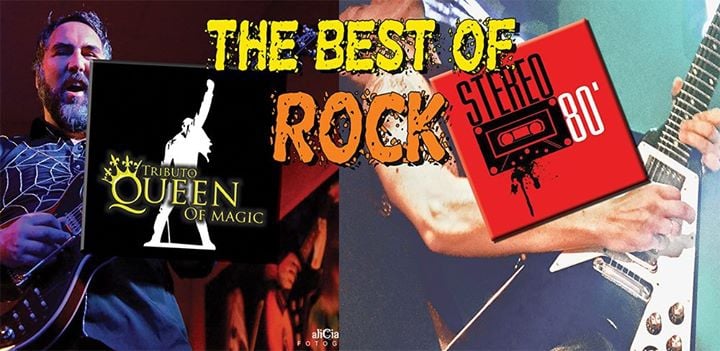 The BEST of Rock Concert - Queen of Magic + Stereo 80
Queen, AC/DC, Bon Jovi, Guns 'n Roses, Led Zeppelin, Dire Straits and more LIVE!!
Fri Mar 2nd 2018 at 21:00
---
Malaga
,

Calle Fenecios

,

Torre del Mar

Malaga
https://www.myguidemalaga.com/events/the-best-of-rock-concert-queen-of-magic-stereo-80
BOOK NOW
Event Details
'For those about to ROCK!!'

A very special ROCK concert featuring 2 of the the top tribute/covers bands on the coast - QUEEN of MAGIC + STEREO 80.

Queen of Magic have been thrilling audiences for years with their superb tribute to QUEEN.
Denyse Sanchez, vocalist, has an amazing voice and does justice to all the songs sung by the icon that was FREDDIE MERCURY. Dave Molina plays guitar just like BRIAN MAY and between them, and the others in the band, they perform a memorable QUEEN tribute concert.

Watch their video https://www.facebook.com/Queenofmagic21/videos/1366099326801741/

Big M Promotions have put Stereo 80 on stages all over the coast more than any other band. Why? Because they are simply the BEST 80s cover band around. So good that they have supported many top Spanish bands on tour as well as headlined themselves at festivals and in auditoriums.
Covering bands like; AC/DC, Guns 'n Roses, Van Halen, Led Zeppelin, Dire Straits, Bon Jovi, Lenny Kravitz, Kiss and more, their performance has everyone up on their feet from the beginning! Watch Stereo 80 play Highway to Hell https://youtu.be/GbiXXaXUHlo

For this TOP rock event Big M Promotions are bringing in the best festival quality sound and lighting, ensuring that BIG concert atmosphere and sound.

Tickets are 22€ for advance purchase and 25€ on the night.
Tickets are available at the Lux Mundi Centre, Torre del Mar from 10am to 2pm weekdays.
1€ from each ticket will be donated to Lux Mundi.