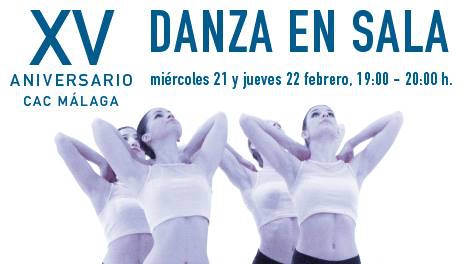 XV Aniversario: Danza Contemporánea
CAC Málaga
Wed Feb 21st 2018 to Thu Feb 22nd 2018 at 19:00 until 20:00
---
Calle Alemania

,

Malaga

,

Soho Malaga
https://www.myguidemalaga.com/events/xv-aniversario-danza-contemporanea
---
CAC Contemporary Art Museum
MAKE ENQUIRY
Event Details
The CAC Málaga organizes in collaboration with the Higher Conservatory of Dance (C.S.D) some days of dance within the XV anniversary of the CAC Málaga the next days 21 and 22 of February. On this occasion, the choreographies are inspired by the works of the Balkenhol exhibition. The Superior Conservatory of Dance (C.S.D) under the artistic direction of Marina Barrientos, present for this special occasion a selection of small choreographic pieces inspired by the artist's work and emotions. The students belong to the disciplines of Contemporary Dance, Classical Dance and Spanish Dance. This experience allows, in addition to combining different artistic manifestations, to enable spaces where choreographers and interpreters show their work to audiences of all ages. At 7:00 pm, the Dance show will begin.

INTRODUCTION: Fritzlar railway and metro station, small German city of 15,000 inhabitants, located in the state of Hesse 160 km north of Frankfurt, the birthplace of the artist Balkenhol (architect of the exhibition you see) and where the train is 'Star', named like that since it is the most demanded of the population, because yes or yes, each subject is ever raised to it. Make the emotional journey one way or round trip, whose origin is wood and final destination heart ... or vice versa. The stops among others are: being transparent, fear, sadness, joy, aversion, anger, surprise ... get on the train with us and enjoy this unique trip.

Original idea: Marina Barrientos

Music: Medieval Trio, Garth Knox, Agnes Vesterman & Sylvain Lemetre - Just Narrator: Domingo Torres

Piece: Transparent?