Extreme sports in Malaga
Adventure Sports
Malaga is a mecca for fans of extreme sports offering world class adventure and extreme challenges
Thanks to the proximity of Malaga city to the dramatic limestone sierras of Andalucia, you can easily indulge in a day of challenging adventure while staying in the city.
The province of Malaga is an internationally renowned mecca for extreme sports aficionados, and it is a significant part of the tourist industry with dozens of specialist companies offering services, guiding and activities. Check out our things to do in Malaga for extreme sports for more details.
There are so many watersports available, we have a separate article here for those. On land, you can still get wet as Canyoning is one of the most popular sports on offer with many companies offering fully guided and supervised tours down several spectacular river gorges east of Malaga.
Naturally where there are gorges, there is rock climbing, and the province offers a huge variety of challenges. There are many well bolted sports routes up crags and cliff faces, mostly over limestone. The daddy of them all is the El Chorro gorge and several climbing schools offer initiation and guiding on this epic mountain. El Torcal de Antequera offers a stunning backdrop for excellent climbing but there are literally dozens of spots throughout the province, little more than an hour's drive usually. There are also several climbing walls or Rockodromes for novices within the city. Where there's limestone, there's usually caves, and there is no shortage of caving routes either for those with a taste for damp and dark.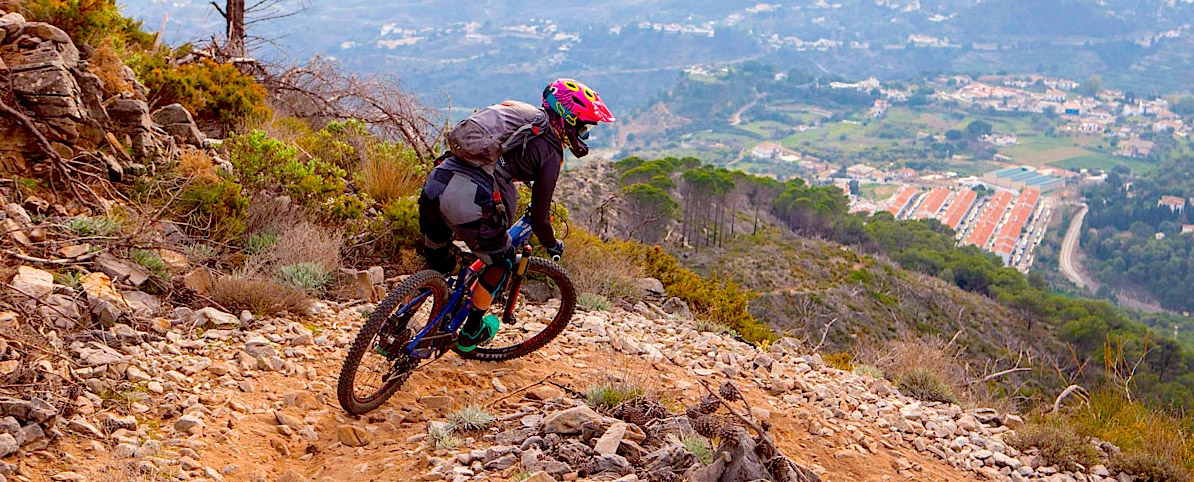 More recently Málaga has become a prime destination for mountain biking. Thanks to its vast rugged sierra running along the coast there are dozens of routes offering world-class downhill, enduro and cross-country biking. World class in the sense that many professional downhill mountain bike teams train and test their machines on the demanding trails, and regular national and international enduro competitions take place. Fortunately there are plenty of companies offering guided riding holidays, as if you aren't local it's not easy to find many of the routes. The town of Benalmadena, only 20 minutes from Málaga city centre has a cable car lift that permits bikes enabling uplifts of heavy downhill bikes to maximise your fun. A current project proposes turning this particular mountain into a signature European biking destination with special routes and an adapted uplift system.
Up in the skies, some of the steep mountains offer prime spots for parapenting and paragliding, and world championships take place in Algodonales. Parachute jumping, helicopter rides and even bridge jumping give thrill seekers plenty of variety.
While these sports can certainly be considered extreme and usually require fitness, appropriate equipment and often specialist guides, there are a host of less demanding but equally adventurous activities. The Málaga area has literally dozens of companies that can organise any form of outdoor adventure, covering all kinds of hiking and excursions, safaris with jeeps, buggies, motorbikes and bicycles, and most of these can be adapted for special groups, business incentives, stag and hen events even.
Málaga is obviously known for the Costa's sun sea and sand, but thinking that's all their is would be missing some of the best and most challenging outdoor adventures available in Europe. Given the forgiving climate, one can practice these sports more readily and in more comfort than most elsewhere in Europe, and for most of the year.