Watersports in Malaga
Adventure Sports
all manner of fun and adventure in the sun
The city of Málaga is the midpoint between two Costas, occupying a large section of the coastline of Andalucia, 185km in total. To the west is the Costa del Sol, synonymous with sun, sea, sand and package tourism, and to the East is the Costa Tropical, with significantly less tourism, smaller less sandy beaches and drier and more rugged topography than that of the Costa del Sol. Along the extensive coastline one really can find any watersport imaginable.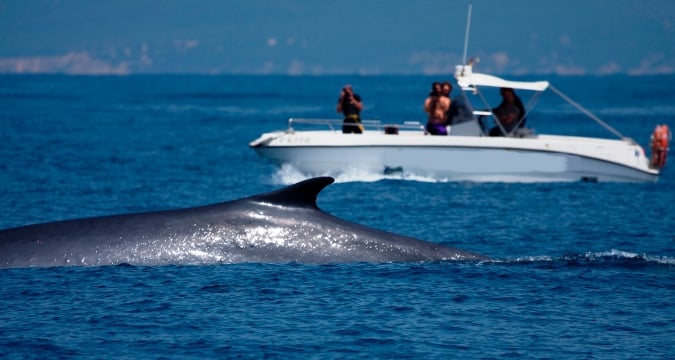 The tourist destinations to the west typically offer all forms of water fun for families, including parascending from boats, water skiing, jet ski rental, and all manner of other craft such as pedalos and stand up paddle boards. There is also a huge choice of fishing charters and boat and yacht charter up to breathtaking levels of luxury. Plenty of companies will take you out to spot dolphins and several species of whale even.
While in Malaga city there is a fairly small yacht marina, the nearby marina of Benalmadena is a major centre for yachting, with classes and schools for a wide variety of boats and styles.

There are specially designated areas close to the city afforded to windsurf and kite surf, and it is best to hook up with locals to keep abreast of favourable wind and locations.
East of Málaga the coast is characterised by steep mountains rolling down straight into the sea, with areas of high cliffs and fascinating rocky little coves making it a prime destination for scuba diving. Dive schools tend to concentrate around La Herradura and Maro where the coastline affords soft coral gardens, underwater caves, abundant fish life and spectacular coastal waterfalls in wetter seasons. If you aren't licenced to dive, you can always snorkel, rent paddle boards or sea kayaks, and there are organised excursions to discover the coastline. Some scuba schools based in Málaga will run trips to wreck dives in the Gibraltar Straits.
For surfers the Málaga coast isn't the biggest draw, as its proximity to the Atlantic coasts past Gibraltar means it rarely competes with that, and it's only a two hour drive from Malaga to the serious Atlantic surf in Los Caños de Meca.
Whatever your passion, head out of town in either direction and you won't have to go far to find the action. There are marinas in Málaga, at Muelle Uno and El Candado, and in Benalmadena, Fuengirola, Marbella, Cabopino, and Marina del Este, where the charters and trips are based, and most Costa del Sol beaches have aqua fun parks, jet ski and paddle board rental plus trips on a wide variety of inflatables.
All watersports are governed by strict safety rules and areas of activity are clearly defined and signalled and should always be adhered to.