Great Málaga Walks
Adventure Sports
Along the coast, up in the mountains, Málaga has an endless array of trails and pathways through breathtaking landscapes, many close to the city.
Our Top Experiences and Tours in Malaga:
If youʻre booking your trip to Malaga last minute, we have you covered. Below are some of the top tours and experiences!

Málaga city is a terrific town for walking around. Its centre and seafront have been heavily pedestrianised in recent years. The plethora of bike and Segway hire companies testify to its accessibility and charm, and other companies offer cultural and gastronomic walking tours. But the city is only the beginning of a network of exciting new initiatives for walking and trekking. The provincial government has launched two well funded and ambitious initiatives with Málaga as the centre of what is known as the Gran Senda de Málaga, and the Senda Litoral. A senda is the Spanish word for a trail, and these two major trails allow walkers to traverse a huge length of the coast (senda litoral) and long distance circular walking trail (gran senda) that circles the entire province.

Of immediate interest to anyone staying in the city is the coastal path, the

Senda Litoral

. This will eventually stretch 200 kms along the Mediterranean coast, potentially allowing one to walk for days on end along the seaside. It implies constructing a wooden walkway along beaches and cliffs of the whole province. Already about 65% of it has been finished. In Malaga city, one can walk west to east from the nature reserves of the Guadalhorce river's estuary along the seafront, through the centre of town and along through the satellite town of Rincón de la Victoria. Bicycles are prohibited on weekends and public holidays for very necessary safety reasons, as the path has proved extremely popular and is very well used at peak times. However, much of the seafront in Malaga itself has dedicated cycle paths and this is a prime way to cover the 12kms or so of the city shore itself. There are extensive sections finished from Fuengirola to Torremolinos, east of Marbella toward Estepona and many shorter stretches around most of the coastal resorts.

The path itself connects many interesting tourist sites close to the beach and en route you can take in the
Russian Art Museum
, the
vintage car museum
, you can stop and shop in the craft market in Muelle Uno, take a trip on the ferris wheel, then carry on along Málaga's signature beach, the Malagueta. If you want the true Málaga experience stop and lunch in one of the chiringuitos (beach hut restaurant) on Espetos. This is the Málaga tradition of grilling skewered sardines over logs on a sand-filled fishing boat. With a green salad, some olives and a cold Victoria (Málaga's own delicious lager), the smokey tangy sardines are a true taste of the sea, and this is still one of the most enjoyable and affordable ways to eat along the seafront. Further along you come to the Baños del Carmen, a Málaga institution. This cast iron mid-19th century bathing pavilion is now a restaurant and bar, and is one of the best places to chill out over sunset tapas and drinks.
The Senda Litoral actually forms selected portions of the much larger and daunting Gran Senda de Málaga. gransendademalaga.es/en/ This well signed and designed route is intended to take you to every corner of the province, covering its emblematic sierras and forests, its various natural parks and coastal areas. It is divided into 35 stages covering 660kms, passing through 51 different municipalities and 9 different rural counties. It represents a fascinating and singular challenge for serious hikers. The website offers a wealth of information and support material.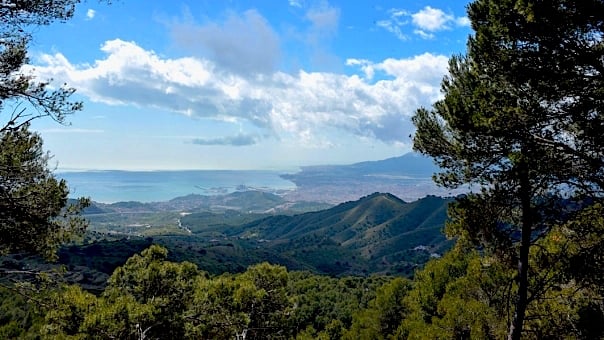 But this is really just the tip of the iceberg for walkers in Málaga. Immediately behind the city is the natural park of the Montes de Málaga. To the east of the city inland is the region of the Axarquía, where little white villages clutch to steep mountainsides, and sultanas dry in the autumn sun. Further inland there are more natural parks and sierras famed for their walks, too numerous to mention. The province is a treasure trove of vast dramatic landscapes of limestone crags, pine and oak forest, sweeping valleys and curious forgotten villages where a good cup of coffee and a hearty simple meal are almost obligatory. The area around El Chorro and El Torcal offer stunning rocky landscapes, typified by the wonders of the Caminito del Rey.
It is best to harness modern technology, and most routes now have downloadable wikilocs to use with various apps and navigation devices. Here's a site where you can download dozens of well-mapped routes. wikirutas.es/rutas/Andalucia/Malaga/
Walking and trekking in Andalucia is not a summertime activity, the heat is simply too intense unless you are well above 2000 metres, which is why Granada's Sierra Nevada is one of the few places realistic for summer walking. Spring and Autumn are best, and winter is fine for lower altitudes, but some of the higher sierras require preparation and wariness in winter because they can be prone to snow and freezing low cloud.
There is no shortage of companies that offer guided excursions and rural accommodation, check out our listings for outdoor activities.