Recyclo Bike Cafe and Shop
Food & Drink Lifestyle Sports
Great food, chilled out cafe vibes and everything bike
Recyclo Bike Cafe and Shop is something unique in Málaga, but not in Europe. The concept of the bike cafe abounds in cities all over the world. They are cafes that welcome the cycling community and are a social hub, where wearing strange colourful skin tight clothing or dragging a bike into the premises is not frowned upon but positively encouraged. Málaga's Recyclo Bike Cafe is one such place. Dave Webber hails from Los Angeles but settled in Málaga in 2003 and opened a bike shop in the Pedregalejo neighbourhood in the east of the city. He's been a cycle courier in his time, and he was soon joined by Londoner Greg Mills, another ex-bike messenger and fully qualified cycle mechanic. When looking for a way to expand the Pedregalejo business into the centre of Málaga they realised they had to expand the income streams to be able to sustain a cycling based business in town. Rentals or sales on their own would not be enough. So they found a further partner who could run the cafe side of the business, and they attached a bike shop to the cafe. Recyclo is now a proper functioning and thriving cafe, with a bike shop adjacent that offers sales, rentals, and maintenance, all under one roof, and they still have the shop in Pedregalejo catering to the locals in the east of the city.
The concept for the cafe is pretty simple. It has to be wholesome, totally bike freindly and encourage a sustainable healthy lifestyle. This is reflected perfectly in the menu. They source their ingredients from local suppliers and businesses, using organic and sustainable sources whenever possible. What's striking about the food is how wholesome, healthy and international it is, but for a price that is refreshingly economic and realistic in an ever more commercialised city centre cafe scene. Plus, if you're a cyclist, you can get a 10% discount in the cafe! Their stated aim is to actively encourage people to use bicycles more in the city. Making the cafe a place where this community can grow and find a home is not merely a commercial goal, it's a way of changing and improving the life of the city.
So you've got a delcious menu of sandwiches and breakfasts featuring croissants or crepes, with jams and fruit juices, smoothies and milkshakes. There's savoury snacks galore with a Latin influence as a great many of their staff are Argentinian. You'll get delicious empanadas, tacos and nachos and many of the dishes are amusingly named after famous cyclists. They've got burgers and omelettes and salads gin abundancel, and the great thing is the kitchen is now open from 9am till midnight, non-stop. The bar is well stocked with bottled craft beer, and there's plenty of cocktails and spirits available. Naturally there's plenty of veggie and vegan options, with a special vegan chorizo dish from a local producer.
The interior is a mash up of furniture styles, with mismatched chairs and tables, and a mezzanine chill-out space overlooking everything. Some pretty specialist bikes, all of which are for sale, are strung from the ceiling, and there's no shortage of cycling memorabilia and branding. But they also like to support local artists and you'll always find a bunch of works on the walls of varying styles. There's always good sounds playing, drawn largely from the classic rock and pop of the last century, and nothing too electronic. This is analogue living after all. There's an extensive terrace outside and plenty of room to park up a bike. Furthermore, if you're a client of the cafe they'll check over your bike and do any light maintenance you might need in the moment. The menu del día, that perrenial favourite of the working local is only 6 euros here, making it the best value in the old town pretty much.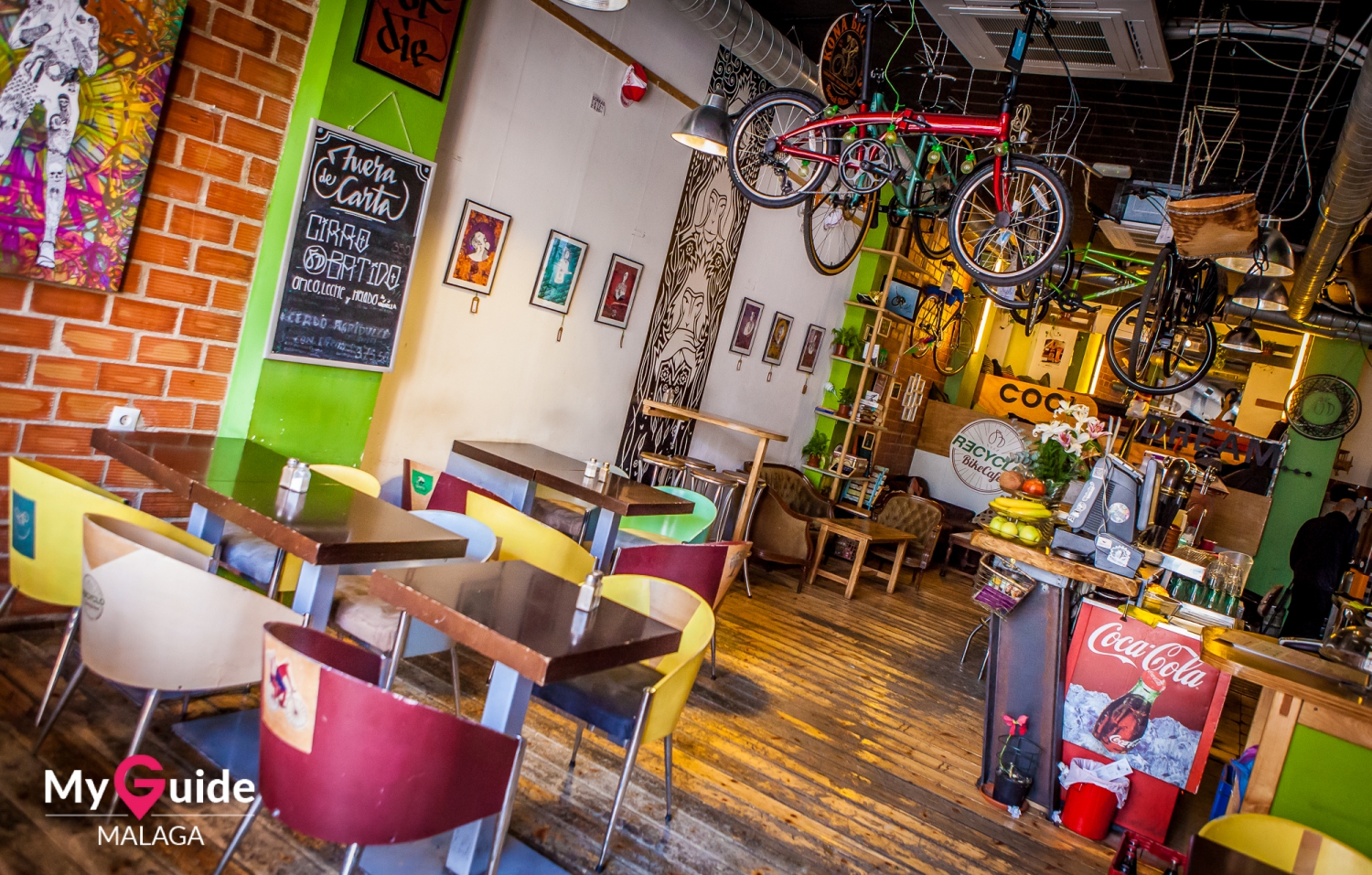 The cafe is also the centre of a very active cycling community. Regular group rides leave and end here, and they offer guided tours into the province for those who want to make a holiday out of things two wheeled. Whatever your cycling interests, you'll meet like minds and be able to connect into all kinds of bike related activities. Keep tabs on their social media for details of rallies, rides and events. Excitement is already palapable as the Vuelta de España is making its start in the city this year, so watch out for lots of social things happening toward the end of August 2018.
The bike shop part of the business is pretty special as well. There's no shortage of shops and big leisure stores selling bikes in the region, it's one of Spain's most popular pursuits after all. However sales of actual bikes are dominated by the cheaper mass market stores and online sales. Those who take their bikes seriously are always looking for a niche product and the service to back it up. At Recyclo, they have forged a very special relationship with two iconic bike brands, Kona and Brompton. The former is a north American maker of high quality off road, touring and city bikes. The rental fleet at the shop is predominantly of Kona bikes. Kona is a highly respected brand and not easy to find, as most other bike shops are tied into restrictive deals with the handful of dominant bike brands. Kona make a wide range of machines especially suitable to more rugged leisure use in cities and on the open road, and excel in mountain biking. Here you'll find the full range of Kona machines available with second to none after-sales service from qualified bike mechanics. The other iconic brand they stock is the Brompton. This bike is still the world's most advanced and compact fold-up city bike. Named Brompton after the London neighbourhood where it was hand built until very recently, it is a masterpiece of cunning design and ergonomics. Few fold-ups are so compact that they can be carried in their own carry bag. This bike fits easily in the smallest boot of the smallest car. The company is very protective of its image and brand and only trust Recyclo to sell and service this unique bicycle in Málaga.
While there are a lot bike rental services aimed at day tripping tourists in Málaga, Recyclo will meet any of your biking needs with a rental deal. If you are staying in the city for an extended amount of time, you can get a great deal that enables to have a bike, affordably, for the duration, from a few weeks to months if you need. They can also offer fleet hire if you want to make a touring bike holiday happen, or do some serious off-road cycling, and have plenty of options for cycling in the city.
Recyclo is a complete cycling lifestyle hub right in the heart of the old town, and some of the best value food around. For further information and contacts check out their listings here:
/cafes/recyclo-bike-cafe
/shopping/recyclo-bike-shop