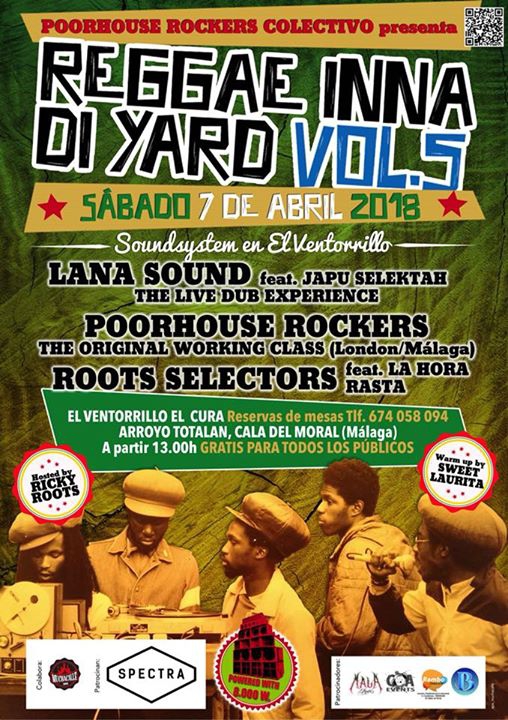 Event Details
ANDALUSIA!

The expected moment has arrived!

What we had been announcing for a long time here you have it: Return the 'REGGAE INNA DI YARD # 5' but this fifth edition in a very special way because it is full of surprises!

The first, from POORHOUSE ROCKERS COLECTIVO, we will have LANA SOUND with Japu Selektah from Jaén presenting 'The Live Dub Experience': Live mix show of their own musical productions.


Sergio López aka Japu Selektah is a music producer and leads Lana Sounds and Lana Studios. Afincando currently in Andalusia after a great season in London UK. Sound technician and music collector. His Lp with the veteran Vivian Jones called 'Deep Roots' released from his label and with collaborations in the same of Roberto Sanchez and Iñaki Yarritu more British musicians is a sample of his musical talent.
In mind for a long time for our Reggae inna di Yards will be in this fifth edition where we can enjoy your presence.


The second, we will also have another debutante this day. Member of Arte-Nova Crew and lover of Jamaican music, Laura López aka SWEET LAURITA makes an appearance and will be for the first time to the dishes before the public playing their vinyl, taking the award and the honor of being the first Selector of the city and that receives all the support of Poorhouse Rockers Collective.

ROOTS SELECTORS join again to this fifth edition of the REGGAE INNA DI YARD. Gaspar and his partner Tanwy will turn their classic 'inna dubwise style' as they define it in the local Malaga scene. The Rasta Hour leaves that day outdoors with us. Crucial.

The stars re-align and reunite the Jiménez brothers this day. POORHOUSE ROCKERS SOUND SYSTEM with Roman aka Brigadier Magic Potato and Carlitos aka Littlebwoy will also be present at the controls with a suitcase full of musical dynamite and many surprises.
London-UK and Fuengirola will shake hands and the true sound of Malaga will again be representing in the city the sound of the Working Class.

Another surprise that we have for you, as Master of Ceremonies, RICKY ROOTS of Positive Sound arrives from Seville to Malaga again to be in the microphone accompanying us throughout the evening. An active MC that will have you all and all in motion!

The date and place indicated on Saturday, April 7, 2018 in the Ventorrillo del Cura (Málaga) from 1:00 pm to midnight!

Debutantes,
8000 watts of pure sound, a Dub show mixed live, 12 hours of outdoor music in nature, Roots, Culture, good vibrations, good atmosphere and the union of different places in Andalusia is what we give from POORHOUSE ROCKERS COLLECTIVE and as it is classic of us in our parties in a free way and for all the public.

Spring brings a fresh breeze and we bring you fresh air in this new edition so write it down in the agenda because that day all roads will once again lead to Reggae inna di Yard!

We put not only Malaga but Andalusia very large on the map of the music scene!

We do not exclude anyone and all Tribes will be welcome!

Reggae Music we support, Reggae Music we promote!

Spread the word!

POORHOUSE ROCKERS COLECTIVO
MARCH of 2018.